Sell your property in Italy with
Gate-away.com
We promote properties for sale in Italy worldwide
Choose your profile
"Overseas buyers, there's a constantly growing demand for Italian properties."
"There are more and more International buyers looking for a house in Italy."
"The search by international investors for a home in 'the Boot' is growing."
"The interest of foreigners in Italy represents not only an important opportunity for tourism, but also for property markets."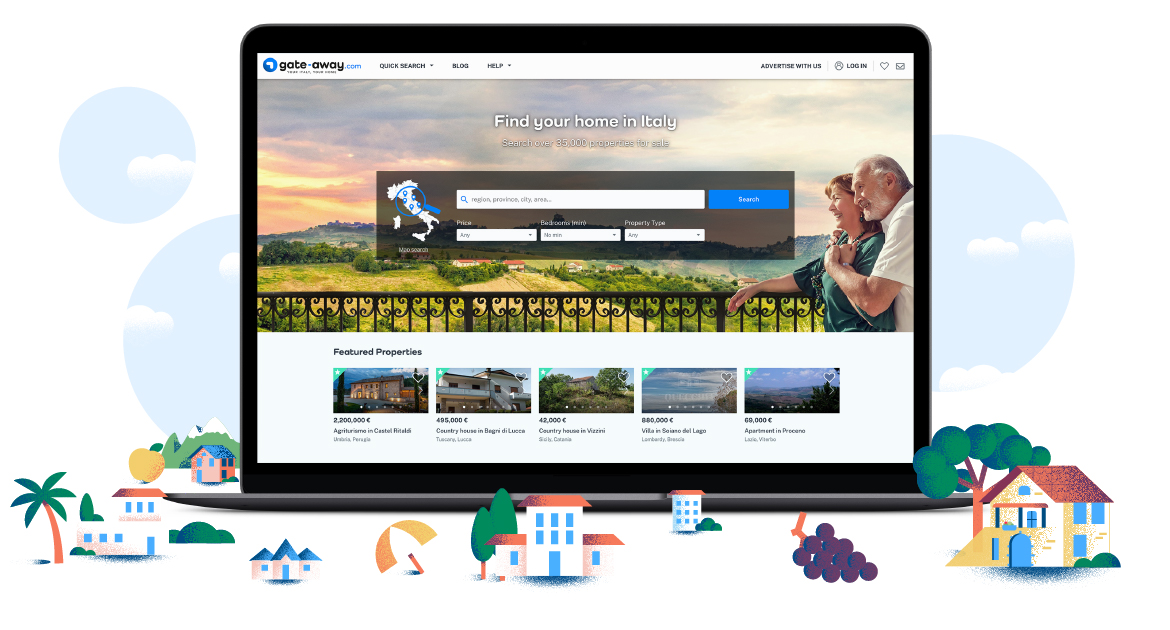 Gate-away.com

is the only web portal that promotes Italian real estate exclusively to international buyers.

Since 2008 we have been the point of reference for estate agents and private owners looking to offer their properties to buyers all over the world, as well as for many foreign clients who want to buy a house in Italy.

ENQUIRIES FROM 150 COUNTRIES
Enquiries for properties published on our website, which is available in 10 language versions, come from buyers from all over the world: USA, UK, Germany, the Netherlands, Sweden, France, Russia, China, the Middle East and many other regions.

POSITIONING
We are excellently positioned on international search engines for the keywords most used by international buyers, in their native language, when searching for a property in Italy.
DIRECT CONTACTS
Buyers will contact you directly by email, without any filtering on our part, via the contact forms on your adverts. In addition to your email client, you can browse all messages via a convenient chat-style interface, which can also be used on mobile devices.

SPEAK IN YOUR OWN LANGUAGE
Thanks to our quality machine translation service, based on artificial intelligence, we translate both your property descriptions and the messages you exchange with foreign customers. If you prefer, you can always provide the translations of the descriptions yourself, or read the messages in the original language.

ASSISTANCE AND CONSULTANCY
You will be constantly assisted by our staff, who will be at your disposal for any needs.

PROMOTION AND INFORMATION
We promote Italy and the properties published on our portal worldwide through various channels, including: our Newsletter (with 70,000 international subscribers), our blog, our social media channels and our guides.
Frequently Asked Questions
Why sell houses in Italy to foreign buyers?

According to the law of large numbers, by consistently increasing the pool of potential buyers, the chances of selling are multiplied.
In recent years, there has been a strong increase in foreign tourist flows in Italy: this confirms the strong attractiveness of the country and this is a great advantage for those wishing to sell homes. It is an established fact that real estate purchases by foreigners follow trends in tourist flows. So, more foreign tourists in Italy means more foreign buyers who decide to buy in the country.
Advertising real estate abroad is an opportunity to be seized on which to invest with appropriate tools if you want to find buyers for your properties in Italy.

How can I sell houses in Italy abroad through Gate-away.com?

By listing them on Gate-away.com, your properties will be immediately visible to a large audience: every month, on average, more than 150,000 international buyers visit our site. Foreign buyers who are interested in your property will send a request for more information, which will arrive directly in the email address you specify. The negotiations will be handled directly by you, with complete freedom and autonomy.

I have luxury properties in Italy to sell, how can I do it?

International demand for prestigious Italian real estate and luxury homes is steady and knows no crisis. Increasing the visibility of a high-value property allows you to intercept a wider audience and increases your chances of finding the right buyer. Choosing specific services for selling homes to foreigners is an excellent strategy for increasing negotiations.

Is it true that foreigners only buy luxury homes in Italy?

No, it is not true that in order to sell houses in Italy to foreigners you must have only luxury properties in your portfolio. Enquiries are coming in for both small, low-priced properties and luxury properties. Obviously there are more people on an average budget, so the number of enquiries for affordable properties is definitely higher. On the other hand, it is also true that if you have a luxury property, it is much more likely that the interested buyer will be a foreigner and not a local buyer.

How many language versions does Gate-away.com have?

Our web portal currently has 10 language versions: English, German, French, Russian, Chinese, Dutch, Swedish, Spanish, Portuguese, Italian. Each version has its own visibility on the search engines of the relevant countries: in this way Gate-away.com gets maximum results in all foreign markets and the published properties will be visible in all 10 language versions of the site, making it the best portal for selling houses to British, Germans, Dutch, Russians and many other nationalities in love with Italy.

What are the main nationalities of foreigners who want to buy houses in Italy?

Gate-away.com is visited every month by foreign buyers from more than 150 countries in the world. Mostly Americans, British, Germans, French, Dutch, Swedes, Belgians, and Swiss. There are nationalities that are emerging, showing strong growth: these are Canadians, Australians, Brazilians, Argentines, Israelis, South Africans, and many others. Periodically Gate-away.com releases data on market trends to the domestic and international press, and you can also find news on our blog.

Why is Gate-away.com so well-known to foreigners who want to buy real estate in Italy?

Gate-away.com is the reference point in the world for people looking for a house or apartment in Italy. This is the result of different activities: search engine optimization; organic positioning of the website in all language versions; multilingual advertising campaigns; use of social networks and online promotional activities; communication and press office activities towards foreign media. In addition, we have set up important partnerships and sponsorships of Italian pavilions in major international trade fairs.
We are often mentioned as an authoritative source by major foreign newspapers, including The Times, The Guardian, The Sunday Times, The Daily Telegraph, New York Times, Mansion Global.

Are properties also published on other websites?

No, your properties will be published exclusively on Gate-away.com. We have chosen not to publish properties on other websites because Gate-away.com is the well-known brand used abroad to find homes in Italy: it would not be as effective to publish properties on a plethora of unknown websites.

Does Gate-away.com guarantee the sale of the property?

Providing a guarantee of the sale is not possible because the market itself decides how desirable a property is or is not.
Also, Gate-away.com does not do real estate brokerage and the negotiation is not handled by us, so we cannot know and govern the outcomes. What Gate-away.com can guarantee is high international visibility, as a result of which the sale will be more likely. If the property is attractive it will be able to attract more buyers.

How long does it take to sell a house?

According to feedback from our advertisers who provide insights from their own experiences, it ranges from a few weeks to many months. The main factor is how competitive your property is compared to others.
If your goal is to sell your home right away, we suggest checking that the price is competitive compared to what the market is offering.
If, on the other hand, you want to get the most out of the sale, then you need to allow for a longer time frame to find the right foreign buyer at the price you have decided on.

I am a homeowner, can I post an ad on your website to sell my home privately?

Yes, you can give visibility to your property with our products and services specifically for selling home privately. Visit the "private seller" section for more information.

I am a real estate agent, do you have specific services?

Yes, we have subscription products and services dedicated to real estate agents and building contractors. Visit the "estate agents" section for more information.