Trullo 5 slaapkamers, 430 m²
Martina Franca, Tarente (provincie)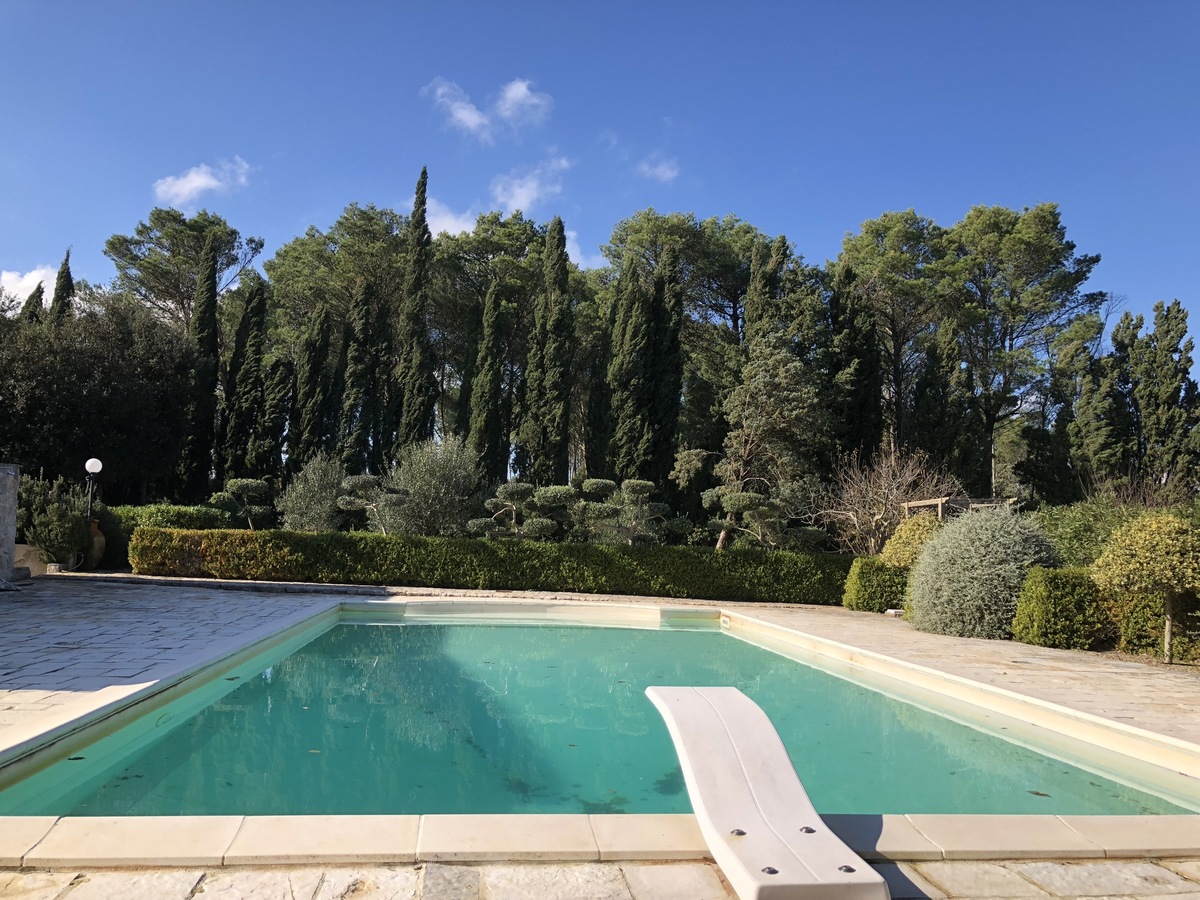 Kenmerken
tuin
zwembad
terras
Beschrijving
MARTINA FRANCA

VILLAS FOR SALE

THE TWO VILLAS

Casa Settembre is a unique property.
There are two independent villas on the site both with easy access to the 12mx6m swimming pool.
There is also a 6mx3m overground splash pool surrounded by sunbathing areas outside the stone barn, called a lamia in Puglia.

The larger villa, The Main House, has three big airy double bedrooms, two bathrooms, a large modern fully fitted kitchen, sitting room, laundry and dining room as well as a beautiful outside dining area. There are marble and ceramic floors throughout.
There is full gas-fired central heating and a large open fireplace.
Most windows and doors are double glazed and benefit from secure metal shutters.
There is a safe and a burglar alarm.

The smaller villa, The Guest House, has two vaulted double bedrooms, a new modern kitchen, sitting room, two bathrooms, dining room and outside dining area with barbeque and herb garden.
There is full gas-fired central heating and a wood burning stove.
There are iron security grids and shutters on all windows.

Both villas are solidly built of stone around the famous trulli cones. Both have been fully modernized and are well maintained.

There are two barbeques, a traditional working pizza oven, a large stone barn, a stone built wood store and a stone built store house.

OUTSIDE

GROUNDS

The extensive grounds (1,100 square metres or 2.75 acres) comprise a woodland area, a herb garden, a boule court, a large fruit orchard and a separate nut orchard, an ornamental garden, a 12mx6m swimming pool with diving board, an arbour and wide sunbathing patios surrounded by formal hedges, topiary and rose garden. The gardens are beautiful and easily maintained. There is an over ground swimming pool and sunbathing area in an enclosed garden outside the barn.

All services are separate from each other.
There are two underground gas tanks.
An aqueduct supplies water which is used to fill two underground water tanks or cisternas. There is a pump house containing two pumping systems for water supply.
Two septic tanks deal efficiently with drainage and outflows.

There are two separate entrance gates, one set for each villa.
There is ample parking and the whole site is fully and securely fenced.
Everything has been designed to minimize maintenance.

IMMEDIATE SURROUNDINGS

The villas stand among extensively wooded and protected countryside. The country road that runs past the villas is part of the European cycle network of country roads, tracks and paths. It also comprises part of the network of hiking and nature trail track ways.

There is a warehouse nearby which is used for the storage and distribution of motor parts. It is silent and not intrusive. There is a farm opposite but none of the farm buildings can be seen from the villas.
There are open fields opposite and behind the villas.
The stunningly beautiful, yet largely undiscovered, town of Martina Franca is just 6 kilometres away.

A 40 minute drive from either the Adriatic or Mediterranean beaches.
An hour to Brindisi International Airport and a little more to Bari.

OPPORTUNITIES

These villas present many development possibilities as well as investment opportunities.

The property could be used for holiday lettings and generate income.

It is possible to live in one villa and let the other to generate extra income from holiday lettings.

The stone barn could be converted to living accommodation.

Further accommodation could be built in the nut orchard.


IMMEDIATE OCCUPATION

The villas and gardens are for sale as one property. The smaller villa will be sold complete with all contents. The larger villa's contents could be sold by negotiation.



This is not in an earthquake zone.

















Details
Trullo

Volkomen gerenoveerd – bewoonbaar

430 m²

5

4

1.100 m²

1100 m²

450 m²

301.61 kWh/m2 anno

Puglia - Two stunning trulli villas with large pool in 2.75 acre garden
Afstand van:
Afstanden worden berekend in een rechte lijn
19.2 km - Autostrada Adriatica

6.6 km - Civile di Martina Franca

20.4 km

131.0 km
In de nabijheid van deze woning
2.0 km - Apotheek - Farmacia Virtù

5.7 km - Dierenarts - Ufficio Igiene e Veterinario
Informatie over Martina Franca
431 m boven zeeniveau

298.72 km²

Kust heuvel

49029
Neem contact op met de eigenaar
Particuliere eigenaar
John Roderick Messer
Strada Redentore Trasconi N6 ZonaF, Martina Franca (TA), Taranto
00447718768279